Steady Partners With Starlight To Bring Access to Government Benefits To Gig Workers At Scale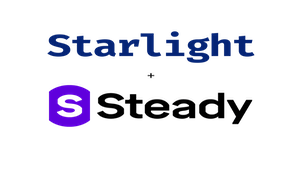 Here at Steady, our mission has always been to equip gig workers with the tools and resources they need to increase their income. A crucial part of raising the income floor of our members involves supporting them in navigating the complex landscape of government benefits and helping them access programs that can significantly improve their financial health.
Every year, approximately $140 billion in government benefits go unclaimed, leaving many individuals and families without the assistance they are entitled to. Steady surveys reveal that while nearly 80% of our members are aware of benefits such as SNAP (Supplemental Nutrition Assistance Program) and Medicaid, less than 20% are aware of other programs they could potentially qualify for. In addition, only 10% of Steady members are receiving public benefits for key expenses like internet, utilities, supplemental security, and temporary relief, and missing out on thousands of potential savings per year.
To address this, our team partnered with Starlight, a technology startup providing integrations and APIs that streamline access to government benefits. For our initial launch, Steady leveraged its income-intelligence technology on members' income/spend data to identify members that were likely eligible for benefits. Then, by leveraging Starlight's no-code integration, Steady was able to help members apply for government benefits, starting first with the Affordable Connectivity Program, which subsidizes the cost of internet. The results we saw after launch indeed point to the need, interest, and impact of enabling our members to easily access government benefits:
91% of Steady members were eligible for savings via benefits

2x average engagement rates from members with this new feature
An average $1,148/year/member in projected savings – from just one benefit
"Starlight is committed to working with impact-fintechs like Steady to bring access to government benefits to the apps households already use and trust," said Shreenath Regunathan, Co-Founder at Starlight. "Our focus is to address the significant knowledge gap and underutilization of government assistance programs to drive financial health."
"By better serving our members with features like Starlight's, Steady is amplifying access to the safety net and fostering resilience for our members," said Lexi Gervis, VP of Impact at Steady.
With this partnership, Steady and Starlight aim to significantly improve the way gig workers and households interact with government benefits, and ensure that workers nationwide have easy access to the financial support they need to thrive.